By Siobhan Bonisteel, Food Procurement and Local Food Development Manager
Food Banks know that hunger is real for far too many Canadians and that the need must be addressed immediately. But we have to remember that delivering on our social mission is not just about delivering food to those in need. We need to concern ourselves too with a feeling of responsibility to our fellow citizen and caring for those that are the most vulnerable, as well as consider a broader vision of community and sustainability. In that way, The Cambridge Self-Help Food Bank is not just a place to get food when one needs it. For many who use the Food Bank, it is also a place of welcome and dignity. For some, their only place. If people are hungry, you feed them. You feed them because you see them as worth it.
Staff at CSHFB know that this perspective of worth extends further. They know that treating people with dignity and providing them with a place of sharing forms the basis of resilient communities.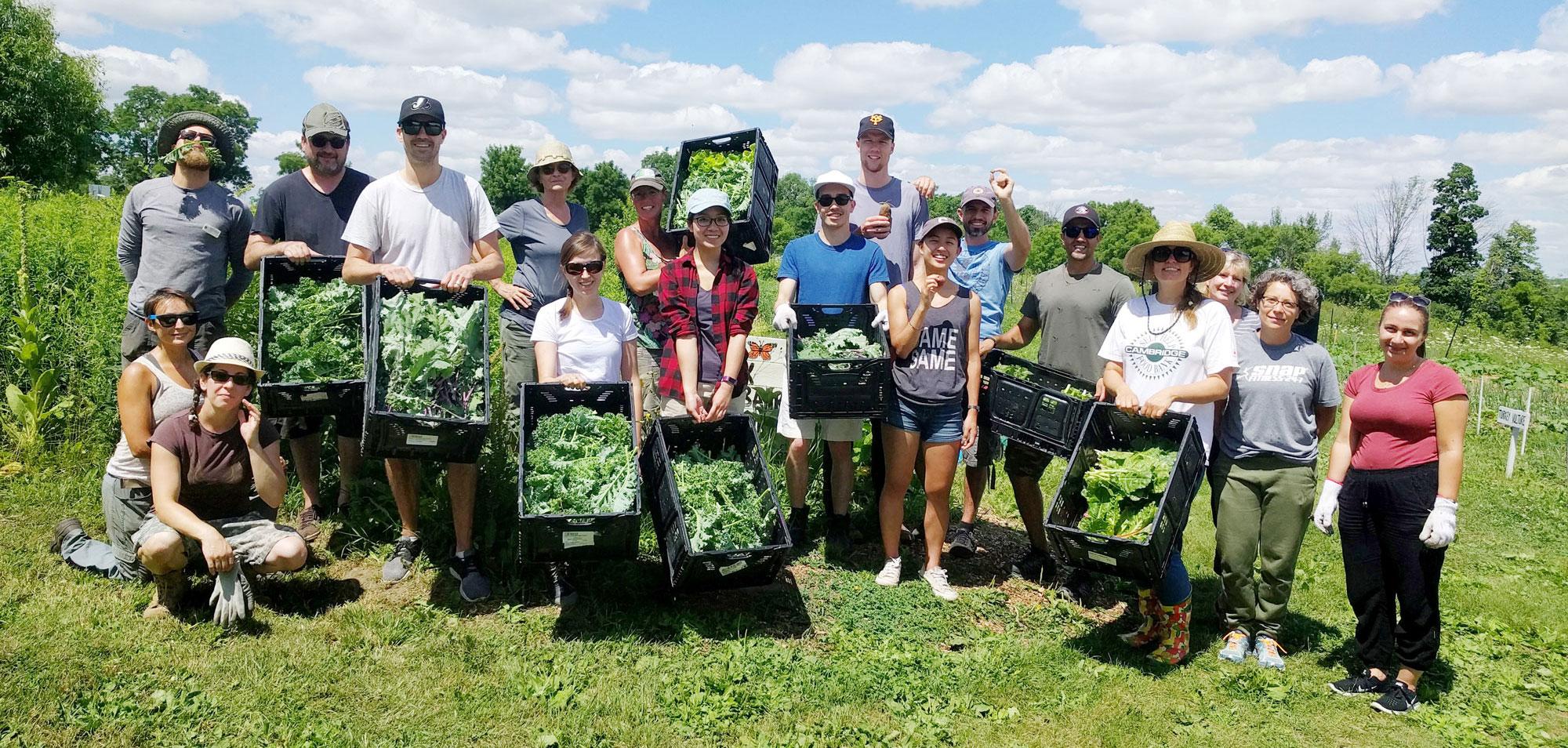 For non-users, the vehicle of giving and being part of something bigger than yourself such as by volunteering for a Food Bank allows people the opportunity to grow into better versions of themselves. They learn what is important and what creates meaning in a life. They learn that our actions define us, not our material possessions.
Local food initiatives work in the same way. While local food groups and projects are also concerned with putting food on the plate, projects like the community garden programs that I run at the Cambridge Self-Help Food Bank, are places of opportunity that foster self-reliance and help build new relationships that break down social barriers, which extend outside the Food Bank.
Local food is essential to Food Banks because it creates access to the healthiest food on the planet for those that are the least likely to have it while also creating even more opportunities for healthy community to grow.
Rather than just having fresh donated to us from somewhere "out there", our gardens and local food programs build access and empowerment for us, by us. Community gardens and local food projects have other community benefits too. They increase local food security by decreasing the distance to fresh fruits and vegetables. They also sequester carbon, support pollinator habitats, support food diversity, provide a sustainable food source and teach people where their food comes from.
Local food does all this while also addressing the fact that hunger is urgent and real and ending hunger is completely necessary – digging deep into the very heart of our obligation as citizens of this earth – responsible to each other and all living things. Poverty and hunger are hard topics. Yet, they are totally and completely necessary to talk about and absolutely fixable.
We don't have to accept hunger and poverty as inevitable. They are human constructions born from an inequitable system, a human system and not a natural law that we must accept. Our local food projects and vision support the current goals of CSHFB while also creating a new way forward for Food Banks across Canada.
With the help of our community partners like The rare Charitable Research Reserve and the Preston Community Garden, we have been able to grow thousands of pounds per year of fresh, organic and local food for our members. Our partnership with the rare Springbank Community Garden (at rare) is responsible for our largest Food Bank garden with over 15 000 square feet of land and a new orchard planted in 2017.

Since reviving this project in 2016 we've produced more than 11,000 lbs. of fresh, local and organically grown food for our members. With all of our local food projects, since 2014 including a gleaning program that I founded in partnership with the Preston Community Garden we've seen more than 13,000 lbs. of fresh, local and organic food flood through our doors – hundreds of pounds of local fresh fruit has also been diverted from landfills thereby additionally helping to decrease unnecessary waste in our city.
A large percentage of what is grown in our gardens is greens that have low weight (such as kale, spinach, lettuce and Swiss chard). As best we can tell, that's around 100,000 plates, and that's significant! Who says food banks only accept non-perishables?
As we continue through the summer season we are working to strengthen our current relationships and expand into new ones with the opening of new garden spaces, the planting of more fruit trees and the expansion of our local food workshops for our members.
On September 12th we will be hosting our "Go Fresh" workshops focused on our gardens, cooking with fresh ingredients, sprouts and preserves. Our co-op garden program also continues with members working the gardens every Wednesday morning. We welcome all of the community in helping us with our efforts.
To join us or to find out more information, please contact me: Siobhan Bonisteel, sbonisteel@cambridgefoodbank.on.ca.
SaveSave