Kindness and generosity come in many different forms in our community. Sometimes, these gifts of the heart are easy to see. We can take a photo with hundreds of pounds of donated food or with a big cheque representing a donation of thousands of dollars. Unfortunately, it is easy to miss the everyday kindness that helps make the Cambridge Food Bank so much more than a food bank.
I have a unique role here, as Spiritual Care Provider at the Cambridge Food Bank. I often describe myself as one of the official listeners and watchers. Much of what I watch for is how people are doing. In the midst of people struggling with food insecurity comes a whole host of other complications. When I see, as I often do, times of tremendous kindness and compassionate I want to tell people of my very positive experience. Please accept the two following stories as a gift of pure generosity seen recently at the Food Bank.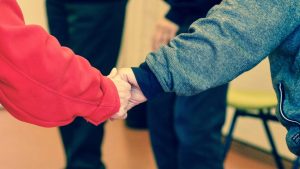 The first occasion I saw in the waiting area of the Community Pantry. An elderly gentleman had ask me for an application for the recently announced Dental Program for seniors. Even before I realized that he would need help in reading and filling in the application, the young woman sitting beside him offered to read it to him and fill it in for him. They did not know each other.  When realizing that he was going to be helped he thanked her profusely.
The second act of everyday kindness was one that again happened in the reception area. It was a bitterly cold day. I had been speaking with an Indigenous Elder. As we moved to give people more space we realized that we stood next to a woman from the Middle East. My Indigenous friend observed that this woman had no gloves and she had just come in from the cold. Although the woman from the Middle East has very little English my friend took her hands and held them to give them warmth. Then she took her gloves out of her pocket and gave them to the woman. In reflecting back to this experience I realized that I was standing in the presence of an Indigenous Elder, a new Immigrant, and myself, a Settler. The very foundations of Canada. Each one recognizing the great gift of everyday kindness. How blessed we are.
June Anderson,
Spiritual Care Provider.