"If you think we are busy now, just wait until December!"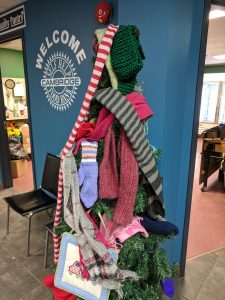 This is the refrain I heard many times throughout my first few months at the Cambridge Self-Help Food Bank. While you can expect the holiday season to be a busy time for a food bank, and for many charities for that matter, I could tell that Christmas, and the whole holiday season, was a very special time at the CSHFB.
And what a time it was!
First it was the events.
The parades, with people all along the route handing over food and funds to our many volunteers who were rushing around to collect it all. The CP Holiday Train, with hundreds from our community cheering the incredible donation from CP, and from ACD Foods who brought a truck with 500 turkeys on it. The Forward and Trinity Community Table Christmas dinners, Hespeler Elves, the Deer Ridge toy drive, Stuff-a-Bus, the River City Concert, and on it went…
And it was the donations.
The Cambridge Self-Help Food Bank relies heavily on the generosity of the community, with more than three quarters of our operations fuelled by donations and fundraising. Whether it was a family coming by with bags of groceries, the small and large businesses, labour unions, congregations, and community groups doing toy and food drives, or community members and businesses making small and large financial donations. It all adds up and gets collected to fuel our work not only during the holidays, but all year long. The generosity of people in our community – our neighbours – is astounding.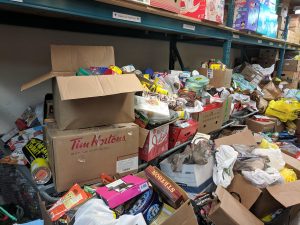 Then there was the distribution.
Most years we find a gymnasium or warehouse space where we can collect and distribute holiday food hampers and toys. This year the right space just didn't materialize in time, so we decided to do it all at our 54 Ainslie Street location.
While the theme was cozy, our army of volunteers and dedicated staff ensured that it all went to plan. Over 450 families received holiday hampers and/or toys for children and teens over a two day period. The hampers were enough for a beautiful holiday meal, with thank to our many donors. And the toys were diverse and plentiful, enough to make sure that the families who registered would be well taken care of. So many of these families were sponsored by individuals, schools, businesses, families, churches – each stepping up to make sure that that one specific family would have a celebration to remember.
And most of all, it was the love.
Over and over I saw people wanting to share their love for their fellow community members. From the little girl who donated toys from her birthday party so that other kids could enjoy them, to the volunteers and donors who made sure that children from single-parent families could choose and wrap a gift for their parent, to the ever-full mitten tree, always loaded with handmade mittens, scarves, and hats, handmade with love and donated by community members. If you want to see people living the meaning of the season, you can find it here.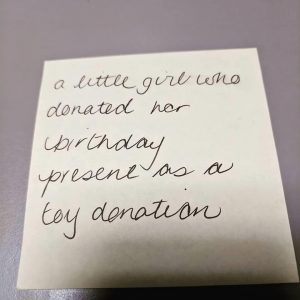 This is not to say that the entire experience was positive. Nestled beside the abundance of the season is the need; community members in need of warmth, clothing, shelter, food, and a sense of community and belonging. These are needs present every day in our community, but perhaps more obvious in this season. Charles Dickens wrote: "We choose this time, because it is a time, of all others, when Want is keenly felt, and Abundance rejoices." One hundred and seventy-five years later, these words remain true.
I am so honoured to get to participate in the tradition of holiday support at the Cambridge Self-Help Food Bank. I've never been more grateful to be so busy as I have this season. To each of you who volunteered, made a donation, knitted a scarf, put a can of food or a new toy into a collection bin, dropped off bag after bag of groceries, or shared a kind word with another member of our community – thank you.
Thank you for ensuring abundance rejoices in our community.
Cameron Dearlove
Executive Director