Mission Statement:
Building health and belonging through food.
Our Vision:
A compassionate, equitable community, where everyone is nourished.
Land Acknowledgement
The Cambridge Food Bank, and the community we serve, is situated on the lands within the Haldimand Treaty of 1784, a formal agreement acknowledging six miles on either side of the Grand River as treaty territory belonging to Six Nations of the Grand River. This is the traditional territories of the Neutral, Anishinaabe, and Haudenosaunee peoples, and we honour their stewardship, past, present and future. We acknowledge the enduring presence of Indigenous Peoples living across Turtle Island, and we are committed to understanding past experiences while actively working towards reconciliation.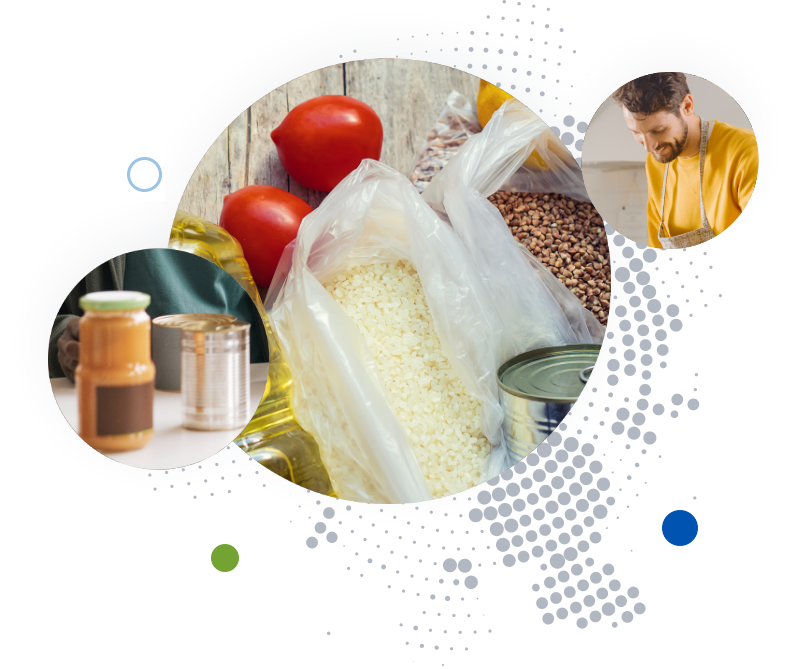 History & Hunger
The Cambridge Food Bank first opened its doors in 1985 in response to a severe economic recessions.
The Cambridge Food Bank serves the City of Cambridge and the Township of North Dumfries, which together have a population of 145,000 people.
Deeply rooted in the communities we serve, we support people to access healthy food and opportunity. In our downtown Galt location, and with satellites in Hespeler, Preston, and Ayr, we operate a variety of programs for our neighbours including emergency food assistance and our unique Mobile Food Market.
Seeing people holistically, we are distinctly, "more than a food bank," supporting people through outreach, a weekly community meal, partnering with community gardens, and wellness programming for the whole family.
We believe that a person's dignity and self-respect are paramount and that everyone has something valuable to contribute. We work to overcome the stigma of utilizing a food bank. Our goal is to have everyone walking out feeling better than when they came in
The Cambridge Food Bank is a member of FeedOntario and Food Banks Canada. We are also an integral part of the Waterloo Region Community Food Assistance Network.
At all times, we adhere to the ethical food banking code:

Ethical Food Banking Code

Testimonials
From The Community
Hear from community members that we have worked with below and read about our impact as reported by the Cambridge Times here.
I cannot put into words how much the Chronic Pain program meant to me. Not only from being tailored to my own specific needs, the excellent techniques but also for the social aspect and comradery experienced in this learning journey.
Rated 5 out of 5
Beverly
We have so much fun during these sessions with Chai that we don't worry about the lockdowns. Zoom has been a big help and doing these sessions we became friends with the participants and have a great time. No room to feel isolated and lonely.☺☺
Rated 5 out of 5
Kohar
I wanted to extend my appreciation for doing these self-help sessions. They have helped me so much that, even if the course is repeated, I would like to participate in them again.
I am sure I can get new tips from you. You always make it so much fun and tasks that seem so hard you show us how to make them so easy and give us ways to achieve a lot without exhausting ourselves. Take it easy, do what you can and when you can. Don't forget to take breaks in between. Those are things that we usually forget in our daily life and suffer afterwards. Now I follow the teaching and do my work mindfully. It seems every area of my life has become mindful.
Again, I would like to thank you, Chai, for the fun and educational sessions. I pray that they will continue for the longest time possible.
Rated 5 out of 5
Kohar
A great community service that assists with managing the cost of groceries.  It's used by seniors on a pension and people who are working, anyone who is in need is welcome.  The volunteers are kind and treat you with respect. I am very grateful to have been introduced to all the services the Cambridge Food Bank offers.
Rated 5 out of 5
Community Pantry participant
I have learned so many different tips and nutrition labeling info from Lunch and Learn and Global Kitchen sessions every week. It is great to make healthy nutritious treats and enjoying them with the kids- guilt free too!!
Rated 5 out of 5
Deedra