March 13-March 17 DIY Activities for Kids
Scroll down to see a list of March Break activities.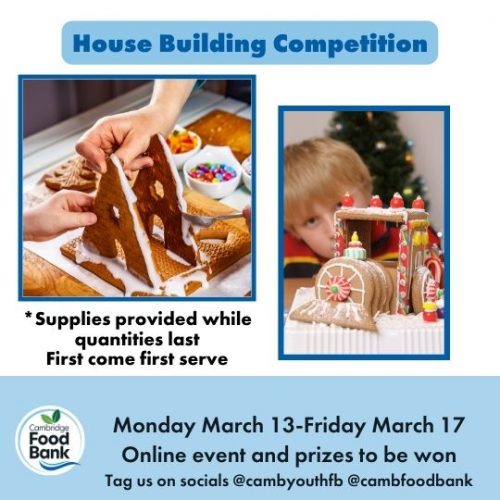 House Building Competition


Come pick up your kit from the Cambridge Food Bank! You will have until Friday March 17 to decorate and submit a photo to Vanessa at vtoncic@cambridgefoodbank.org
Prizes to be won!
Limited quantities available. You may come pick up your kit as early as Monday March 13th from 12:00-4:30pm.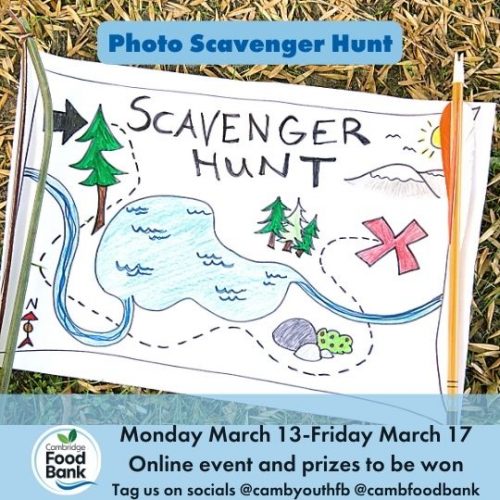 Photo Scavenger Hunt


Want to go on an adventure?


Complete the photo scavenger hunt anytime between Monday March 13 to Friday March 17. Take pictures as you go and submit them however you see fit!

Submit by Friday March 17 at 4:00pm to Vanessa at vtoncic@cambridgefoodbank.org to be entered to win prizes!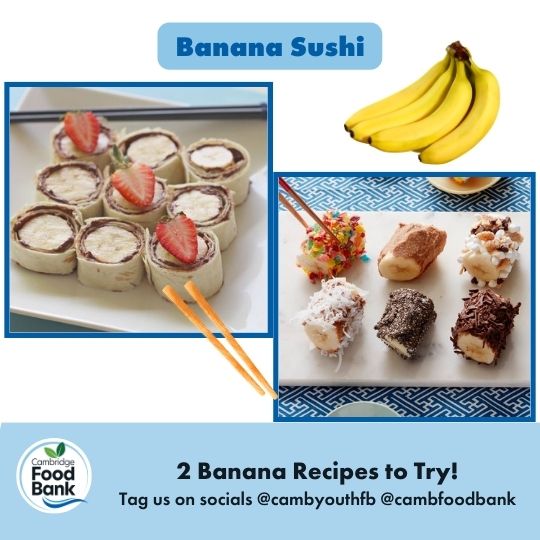 Banana Sushi


Here is a fun, easy and quick snack! Get everyone involved in making their own sushi!
Don't forget to tag us on social media! @cambyouthfb @cambfoodbank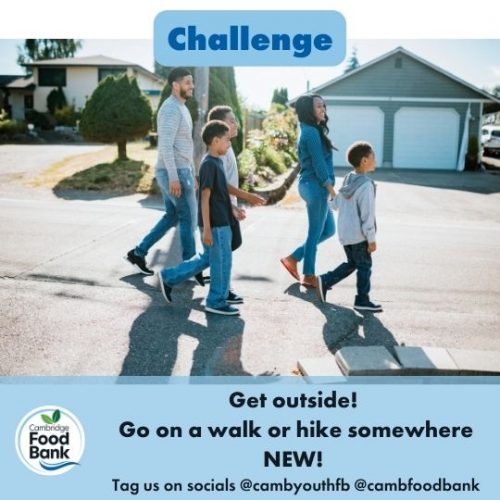 Challenge
Get outside!
Go on a walk or hike somewhere NEW!
Walking with others can help to motivate you to keep walking. The friendly company keeps you from getting bored and distracts you from the walk itself. 
Talking, sharing, and learning with your family helps to strengthen your bond with each other. Studies have even shown that people who are closer to their families tend to live longer. Getting a family member into walking gives you a fun activity to do together, helps them get healthier, and motivates you to walk more. Everyone wins!
It's also great for kids to spend time away from phones, computers and other devices and get out and play in the real world. Modeling an active lifestyle is a great way to encourage your kids or grandkids to get active as well. Kids can also be a great motivator to get more active, as you'll need to build up the endurance to keep up with them as they're out playing.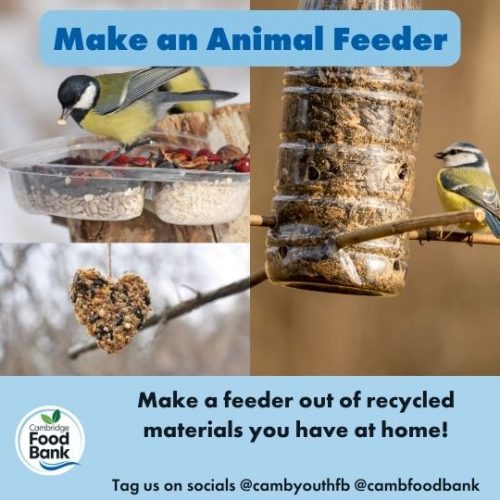 Make an Animal Feeder
Spring is coming and we want to welcome our outside friends back and out of hibernation! Create an animal feeder out of recycled materials and try to use feed from things you have at home! Make sure they are safe for our friends to eat! 
All it takes to get birds to visit your yard in winter is a reliable source of food. See which of these DIY bird feeders you like to make! 
Click here for 14 easy DIY winter bird feeder ideas
Take a picture of your final product and tag us on social media @cambyouthfb @cambfoodbank 
Wednesday March 15th, 2023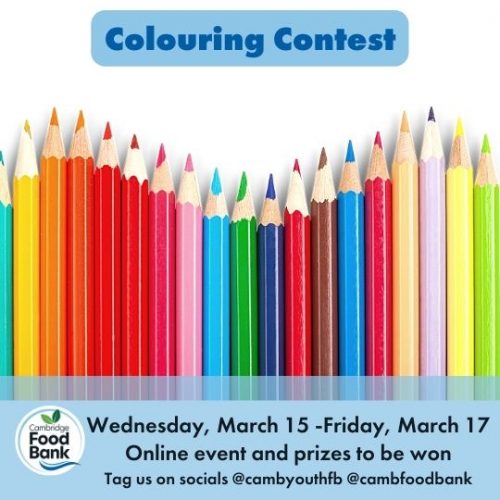 Colouring Contest
Choose one of our four colouring pages below! Colour, and send in your final product to Vanessa at vtoncic@cambridgefoodbank.org
Don't forget to include your first name and age! 
Have sheet submitted by Friday March 17 at 4:00pm to be entered in to win the prizes! 
Click an image above to download and then print.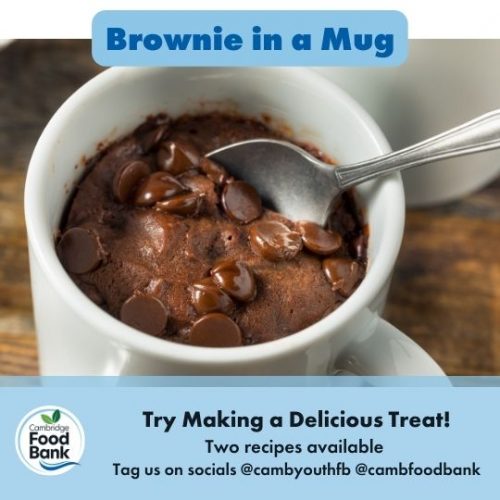 Brownie in a Mug
What is better than a sweet treat! Try out one of these two Mug Brownie Recipes. Don't forget to tag us on social media so we can see your brownie! @cambyouthfb @cambfoodbank 
Thursday March 16th, 2023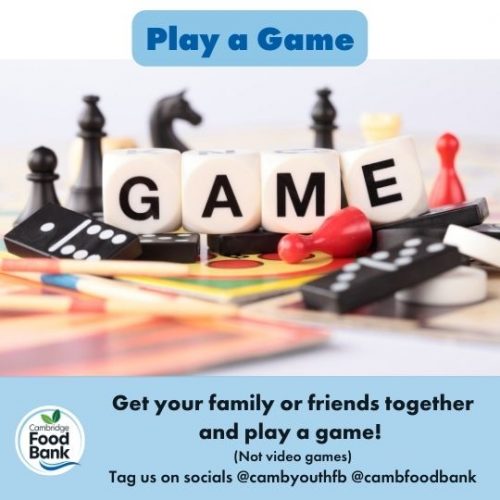 Play a Game
Take it back to the basics! Challenge your family or friends to a traditional game, board or cards. Disconnect from the screens and connect in the moment! Our favorites are UNO, trouble, Sorry, Monopoly!
Playing board games can honestly be quite fun!  Click here to learn more about why you might want to play 
Have fun and enjoy time together!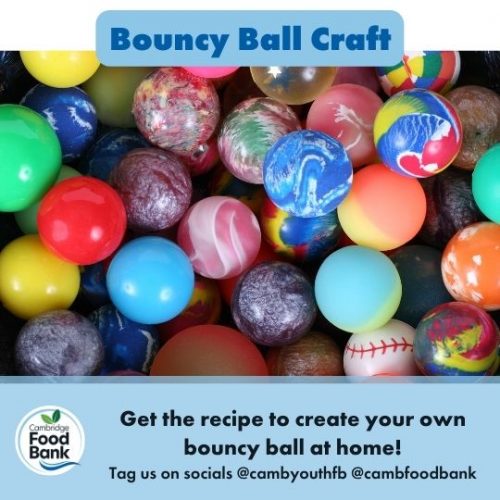 Bouncy Ball Craft
Everyone loves a bouncy ball! The possibilities are endless! We have a recipe for you to make your own bouncy ball at home with household products! 


Click here for this fun and easy science activity.
We cannot wait to see what you create!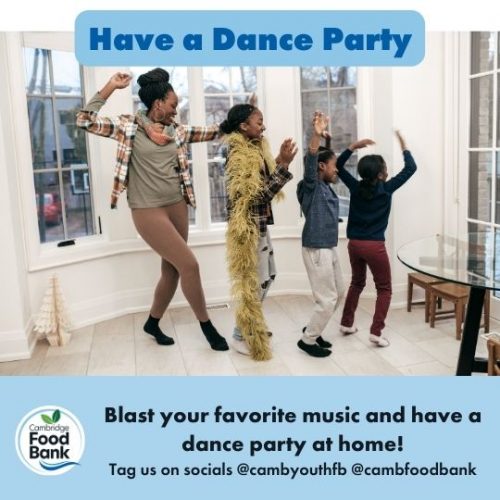 Have a Dance Party
Blast the music and have a dance party! Try some Irish Music for St. Patrick's Day or turn on your favorite movie or theatre soundtrack! Get everyone you can to join in! You will have the best day.
We like Disney soundtracks, Top Tik Tok tunes, or some dance tunes like Sigala!
Click here for ideas on how to take your dance party to the next level!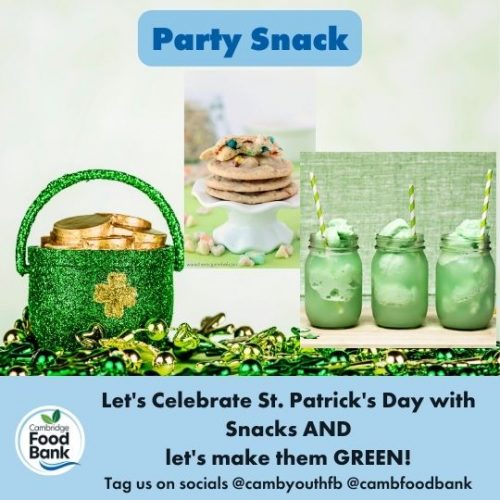 St Patrick's Day Party Snack
Let's Celebrate St. Patrick's Day with Snacks AND
let's make them GREEN or your favorite colour!
Try these recipes below:

Lucky Charm cookies
Lime Floats- can make any flavour or use vanilla and food colouring
Check out this Spotify music playlist for your party!