Learn more about our sponsors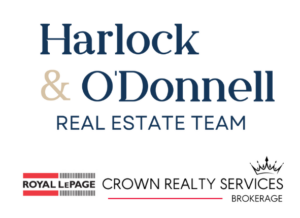 The Harlock & O'Donnell Real Estate Team believes it is our responsibility to give back and support our community. One of the driving factors in our decision to work with Royal LePage is their Shelter Foundation. Royal LePagers help their clients achieve the dream of home ownership, but they know that a house is not truly a home unless it's safe. Sadly, violence and abuse affects thousands of Canadian families, which is why the Royal LePage Shelter Foundation exists. We both donate a portion of our commissions to the Foundation and are in the Top 10% of donors across Canada.  That money funnels back to our Region but we also wanted to do something "hands on" and community based.  Given the food insecurity of folks right here in our community, we felt compelled to do what we could to help the Cambridge Food Bank. We are thrilled with our partnership and are committed to an ongoing relationship. We want to do what we can to put food on the shelves and support the many valuable programs that our Food Bank offers our community.   
Communities are only as healthy as their most vulnerable populations.  We would encourage other businesses to step up and contribute in whatever way they can; workplace fundraising campaigns, hands-on volunteering, or personal donations.  We have the power to be such incredible agents of change in our community and hope that others will consider joining us!  
Lisa Harlock & Jack O'Donnell
In times of uncertainty, the importance of community support cannot be overstated. One of the most pressing needs in any community is access to food. Unfortunately, not everyone has the means to put food on their table. That's why organizations that provide food assistance to those in need are so critical.
We are thrilled to extend our heartfelt thanks to Kim Edmondson from Desjardins Insurance for their recent donation. Their generosity will help us provide essential food assistance to those in need in our community. Kim and the Desjardins team's support is a testament to their commitment to making a positive impact on the lives of those around them.
Kim Edmondson Insurance Agency Limited and The Better Things Crew of Desjardins Insurance.